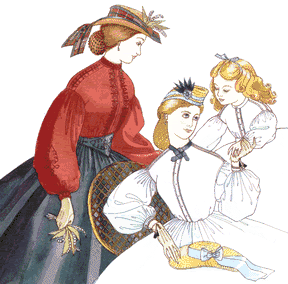 I am in a mood to sew some dresses for me. This might sound silly to some, but I love old clothing, civil war, regency (Jane Austen) era, Victorian. Anything old, its wonderful. In a world where people are taking off clothing, I am drawn to wonderful, old, feminine clothing. Call me crazy, but floor length skirts and dresses give me thrills!

The last two days, as I can, I have been org. Andrew's/the sewing/the guest room. I found a couple dresses I cut out years ago that, after I make my self tidy the living room, I am going to work on them!

As for the girls: I love jumpers, full under-dresses with lace and pinafores!

I found a couple really cute patterns for Andrew, 1900 pants, vest and jackets. I cant wait to sew for my men. I also have a pattern like it for Aaron. :)

For the next while, while its wet and rainy. I am sewing!